Air Duct Cleaning

Improving indoor air quality is becoming the homeowner's highest priority. The Environmental Protection Agency states that indoor air has been found to be up to 70 times more polluted than outdoor air. It is estimated that we spend 90% of our time indoors. Health agencies, doctors, and scientific researchers claim that air born dust may be one of the worst causes of health related problems.

Air Duct Cleaning is a proactive solution to these problems. It can enhance indoor air quality, eliminate built-up of dirt and contaminates, and extend the life of heating and cooling systems.

HVDC uses top of the line equipment to clean your air ducts. Our advanced H.E.P.A. Vacuum System will first be connected to your main air duct. We then use specialized tools to free up any contaminates in your ducts so our powerful vacuum can pull the contaminants out of the ducts and through the filtration system. This helps return clean air back into your home or office. After your air ducts are cleaned, we make sure to carefully reseal all access holes returning your duct system to its original clean condition.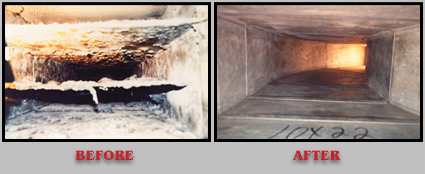 Benefits of cleaning your air ducts:
Eliminates dust
Reduces allergies and illness
Reduces asthma and its symptoms
Energy Savings
Kill and eliminate from your air ducts:
Dust
Dust mites
Dust mite feces
Fungus
Mold
Carpet fibers
Synthetic fibers
Animal dander & hair
Bacteria
Viruses
Pollen
Dander
Paint dust
Construction waste
Mildew
Spores
Dirt
Rodent feces
Insects and their feces
Drywall dust
Fabric fibers
Fiberglass fragments
Skin scales